A St Georges Basin round record of 64 anglers competed in Pro Lure round 7 of Hobie® Kayak Bream Series 9 presented by Daiwa over the May 20-21 weekend.
Anglers traveled from Queensland (QLD), Victoria (VIC), the Australian Capital Territory (ACT) and throughout New South Wales (NSW), to the Shoalhaven region of the NSW south coast, despite predictions of horrendous weather over the weekend. While pre-fish was thwarted by inclement weather conditions, there was a dramatic improvement from the moment anglers left the Power-Pole Starting Line on day one with the clearing skies developing into a perfect weekend, with an excellent bite to match.
It was a fantastic weekend of camaraderie and just plain fun, being out in a magnificent environment doing what anglers love to do most, fishing! Competitors were chasing Angler of the Year Points (AOY), excellent cash payouts, superb sponsor prize packs and looking to build up points to qualify to represent Australia at Hobie Fishing Worlds 7. At registration on day one all anglers were hugely impressed to receive an unexpected gift from Pro Lure, an S36 Pro Lure Crank in Matt Black, and in the end for one angler, it turned out to be the lure that caught the largest fish of the tournament.
Three teams were competing in Hobie Pro Angler 17Ts, which made their first appearance in a Hobie Kayak Bream Series event. Three first timers joined the ranks of the seasoned competitors and the Women's, Youth and Masters Divisions were once again extremely competitive.
Congratulations to all competitors for a superb tournament and those that topped their divisions, but the major accolades go to the top three in the Open Division, Richard Somerton first place, Byron Hill second and Scott Marcinkowski in third place.
Day One Fish Caught – 177
Day One Anglers with Fish – 59 of 64
Day Two Fish Caught – 195
Day Two Anglers with Fish – 57 of 64
Total Fish Caught – 372
Total Weight – 197.44 kg
Total cash payout – $4 640
SOMERTON REIGNS SUPREME
After holding the lead at the close of day one, Richard Somerton from Mount Martha in Victoria, continued his stellar form and took out the tournament with a convincing win, 1.26kg ahead of his nearest rival. Somerton bagged 4 fish for 3.21kg on day one and another 4 for 3.39kg on the final day of competition, with a total two day accumulated 8 fish bag of 6.60kg. His victory won him a hefty sponsor prize pack and $1750 for his effort, and rocketed him to an almost certain place on the team for the next Hobie Fishing World Championship.
Somerton gave a brief rundown of his weekend.
"After pre-fish I found a couple of banks that had fish on it, so on day one I headed up to Kangaroo Point and fished some structure all along there. I was honing-in on the trees that had a lot of shags in them, which seemed to be a bit of a key this weekend. I also found fish in general structure as well, throwing a Cranka Crab, first in cockle and then I changed to an olive that I customised with a black marker pen and that seemed to be a bit better this weekend. From there I moved around to a couple of other banks throughout the day just rotating between them. I came in early on the day because I had a pretty good bag, but I went back out just for a bit of a look around for day two."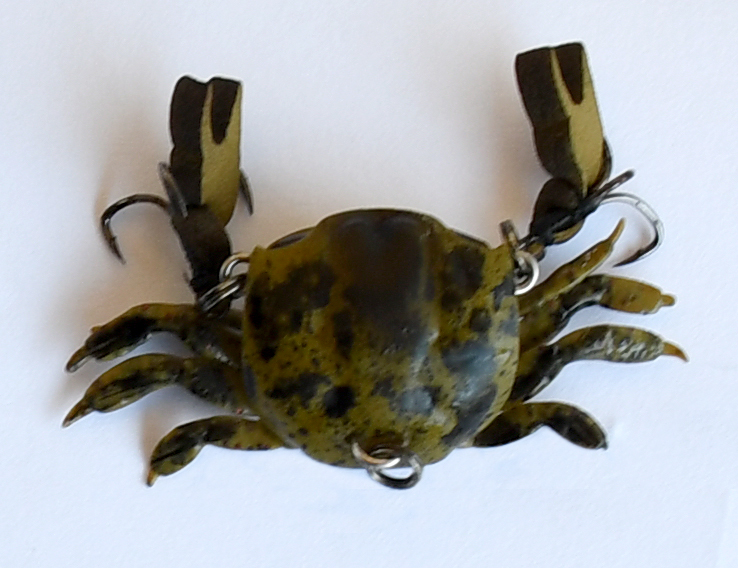 "On the second day of the event I headed straight back to 'Kangaroo', I stopped briefly on a bit of a hummock, then I left Jack Gammie there and headed back in shore. I had my bag by about 8am and my first upgrade came about 10 to 15 minutes later. Once I finished there I started to roam around picking up a few legals here and there. Then late in the day, just around from One Tree, I got a nice kilo upgrade and that really pulled my bag along. That was my day in a nutshell. I was using the same techniques as day one, although I did throw a Gulp Shrimp which got me that 1kg fish late this afternoon."
Rod: 7ft 1-4kg Duffrods Hystix
Reel: Daiwa Freams 2000
Line: Daiwa TD Sensor 8lb
Leader: FC Rock 8lb
Lure: Cranka Crab in Olive (with a customised black touch up)
HILL ONE SHORT OF THE SUMMIT
Second placed finisher was Byron Hill, from Newcastle in New South Wales. After a solid day one sitting in 14th position, the RAAF pilot jumped 12 places to make it onto the podium and his best ever tournament result. Hill bagged a day one total of 2.40kg for 4 fish and followed it up with 4 for 2.94kg on day two. His 8 fish coming in at 5.34kg, and winning him a prize purse of $910 and an excellent sponsor prize pack and substantial AOY points.
Hill had the following to say about his tournament.
"I had no prior benefit from the pre-fish so I spent the first part of the morning observing a number of other anglers hitting a shallow bank. I then hit it myself, but there weren't any fish there and I decided it wasn't going to work for me on the weekend, so I made the decision quite quickly to move into the deep. I went there and I had my bag by 8 o'clock, just vibing somewhere between 4 to 6 metres. I upgraded the bag a couple of times getting up to the 2.40 kg that I ended up weighing in. I wanted to save the spot I had been working for day two, so I ventured out and started working other places looking for fish. I didn't really find many other spots, maybe another two, that ended up not producing anything for me on day two. But to be quite honest day one was really fun for me with back to basics fishing."
"On day two I went to the spot that produced the fish for me the day before. It's on the western side of those two islands in St Georges Basin. Again, it was the same depth of water, I was vibing again and that produced 12 or so odd fish that ended up giving me a 2 and a half kilo bag. I really had to push hard for those extra few hundred grams. After 11 o'clock I didn't really get much. I started to move around and the spot I had been working had become quite busy so I had to leave it to relive some pressure and I did so that a few times during the day."
"Finally, I really couldn't do any of this without the endless support of my beautiful wife Maddie."
Rod: Daiwa TD Commander 1-3kg
Reel: Daiwa Silver Wolf 2506
Line: Daiwa TD Sensor 4lb
Leader: FC Rock 4lb
Lure: Samaki Vibelicious in Chartreuse Pink Head
Scott Marcinkowski from Cordeaux Heights in NSW bagged out on day one with 2.23kg on day two he had a 2.98kg bag giving him a total of 8 bream weighing in at 5.21kg. Scott picked up a major sponsor prize pack a $590 cash payout and 98 AOY points.
ATOMIC BIG BREAM
The Atomic Big Bream was won by the 8th placegetter in the Open Division, Tony Pettie from Traralgon in Victoria. Pettie landed a massive 1.41kg bream aboard his Hobie kayak. The impressive fish was the largest caught in the tournament where there were plentiful other bream caught weighing in over 1kg. Pettie caught the monster on the Pro Lure S36 Crank in Matt Black that he received at registration.
Rod: Hurricane 69R Light Series
Reel: Daiwa Freams 2500
Line: Sunline 8lb
Leader: FC Rock 5lb
Lure: Pro Lure S36 Crank in Matt Black
DIVISIONS
Youth Division
Steven Pryke from Lakes Entrance in Victoria, had a day one bag of 4 for 2.64kg and on day two he brought back 4 fish for 2.21kg totalling 4.85kg over the two days. Steven finished in 6th place in the Open Division.
Womens Division
The winning woman was Tameika Purnell from Sanctuary Point in New South Wales, with a day one bag of 4 for 2.46kg and day two 4 for 2.15kg totalling 4.61kg. Tameika had her best tournament performance finishing in 12th position overall.
Masters Division
Lex Court from Davistown in New South Wales was the best performing Master with day one 4 for 2.24kg and day two 4 for 1.75kg totalling 4.85kg.
Pro Angler 17T Division
Darryl Head and Kobin Rasker from Basin View in New South Wales had an 8 fish two-day bag of 4.33kg to bring back to the weigh-in the largest team bag for the 17T tandem kayaks.
First Timers
Connor Barratt 3 for 1.68kg.
MORTGAGE CORP MONSTER MOVER
Warren Forbes from NSW took home the Mortgage Corp power pack, jumping up from no fish on day one to pick up 4 fish for 2.09kg on the second day of the tournament.
THANKS
Well done to the team from Totally Immersed Watersports in South Nowra forn their dealer support and for the delicious curry and rice on Saturday and the exceptional burgers on Sunday.
Thank you to our sponsors Daiwa, Berkley, Atomic, Lowrance, Rhino-Rack, Strike Pro, TT Lures, Pro Lure, JML Anglers Alliance, Mortgage Corp, Power-Pole, Hobie Polarized for their endless support.
DAY ONE
Early this morning 64 anglers blasted off from the Power Pole starting line on St Georges Basin, New South Wales in Pro Lure round 7 of Hobie® Kayak Bream Series 9 presented by Daiwa.
It was a record number of competitors for a round contested on "The Basin", with anglers from Queensland (Qld), Victoria (VIC), the Australian Capital Territory (ACT) and New South Wales (NSW), ignoring predictions of horrendous weather and heading to the Shoalhaven region of NSW for the tournament. They came chasing Angler of the Year Points (AOY), enticing cash payouts, fully loaded sponsor prize packs and a chance to build points to qualify for the Australian Team and compete against the world's best at Hobie Fishing Worlds 7. A number of first time anglers were out there getting a feel for what tournament fishing is all about, and 3 teams competing in Hobie Pro Angler 17Ts set the standard for an exciting new aspect to the kayak tournament fishing scene.
Yesterday's pre-fish day was marred by consistent rain that reduced many anglers time on the water, but from the results on today's Rhino-Rack Leaderboard they were able to formulate effective plans of attack for today's competition.
Heavy rain continued to belt down overnight but had fizzled itself out by the start of competition this morning. At the start a slight drizzle fell as anglers headed to their preferred locations, and from that point, the sky continued to clear of threats of further rain. Nevertheless, a helpful cloud cover persisted and by mid morning the early glassy conditions gave way, as a light breeze puffed up and rippled across "the Basin', shifting from the NW around to ESE through mid morning and into the early afternoon.
The bite for many started as soon as they began to cast, with one angler filling his four fish bag with his first 15 casts. The reports from across the waterway were the same, full or near full bags with a number of hours to go before anglers were required to be back at the Hobie Polarized event site. Upgrades were common and some impressive sized fish were brought aboard the fleet of Hobie kayaks. Many bream were around the 800g mark, and the sizable number of over 1kg battled it out for the biggest fish of the day. Eventually, Tony Pettie weighed in a 1.41kg monster and he leads the Atomic Big Bream for this round.
The day one overall leader is world number 2, from Mount Martha in Victoria, Richard Somerton on 3.21kg. Sitting in second place is multi Australian representative, and like Somerton another angler having an incredible 2017 series, Tony Pettie from Victoria on 2.94kg. In third place, and taking it right up to the big names, is Michael Walker from New South Wales with and impressive 2.92kg bag of 4 fish.
Tomorrow anglers will, once again, be chasing a 4 fish bag, and with the weather set to improve further, all anglers sitting in the top half of the Rhino-Rack Leader Board, have an excellent chance of taking out a podium finish.
As the sun rises tomorrow anglers register at 6:00am for a 6:30am briefing and a 7am start. At 2:30pm (AEST) a live stream broadcast of the weigh-in and presentation will be broadcast on the Hobie Fishing Australasia Facebook page and simultaneously on hobiefishing.com.au.
At around 3:45pm on Sunday we will know the winner of Pro Lure round 7 of Hobie Kayak Bream Series 9.
Get those reels screaming!
For all the event images click here.
| | | | | | | |
| --- | --- | --- | --- | --- | --- | --- |
| Place | Angler | State | Division | TF | TW | Payouts |
| 1 | Richard Somerton | VIC | O | 8 | 6.6 | $1750 Plus Sponsor Prize Pack |
| 2 | Byron Hill | NSW | O | 8 | 5.34 | $910 Plus Sponsor Prize Pack |
| 3 | Scott Marcinkowski | NSW | O | 8 | 5.21 | $590 Plus Sponsor Prize Pack |
| 4 | Chesney Fung | VIC | O | 8 | 5.03 | $270 Plus Sponsor Prize Pack |
| 5 | Michael Walker | NSW | O | 8 | 4.98 | $230 Plus Sponsor Prize Pack |
| 6 | Steven Pryke | VIC | Y | 8 | 4.85 | $200 Plus Sponsor Prize Pack |
| 7 | Warren Allen | NSW | O | 8 | 4.84 | $180 Plus Sponsor Prize Pack |
| 8 | Tony Pettie | VIC | O | 8 | 4.76 | $160 Plus Sponsor Prize Pack |
| 9 | Brian Hunt | NSW | O | 8 | 4.76 | $140 Plus Sponsor Prize Pack |
| 10 | Simon Morley | NSW | O | 8 | 4.74 | $110 Plus Sponsor Prize Pack |
| 11 | Josh Klimas | NSW | O | 8 | 4.64 | |
| 12 | Tameika Purnell | NSW | W | 8 | 4.61 | |
| 13 | Jonathan Chen | ACT | O | 8 | 4.59 | |
| 14 | Kevin Boese | NSW | O | 8 | 4.55 | |
| * 15 | Kayle Rattenbury | NSW | Y | 8 | 4.54 | |
| 16 | Glenn Allen | NSW | O | 8 | 4.53 | |
| 17 | Christopher Purnell | NSW | O | 8 | 4.45 | |
| 18 | Richard Benson | NSW | O | 8 | 4.41 | |
| 19 | Paul Dunlop | NSW | O | 8 | 4.4 | |
| 20 | Jack Gammie | NSW | Y | 8 | 4.3 | |
| 21 | David Shanahan | VIC | O | 8 | 4.25 | |
| 22 | Carl Dubois | NSW | O | 8 | 4.2 | |
| 23 | Trent Rogers | NSW | O | 8 | 4.2 | |
| 24 | Geoff Alford | ACT | O | 8 | 4.16 | |
| 25 | Anthony Kalsow | NSW | O | 8 | 4.1 | |
| 26 | Arthur Amies | NSW | O | 8 | 4.03 | |
| 27 | Lex Court | NSW | M | 8 | 3.99 | |
| 28 | Jason Reid | NSW | O | 7 | 3.96 | |
| 29 | Danny Jobson | NSW | O | 8 | 3.79 | |
| 30 | Lex Irwin | QLD | M | 8 | 3.74 | |
| 31 | Jason Deenen | VIC | O | 6 | 3.48 | |
| 32 | Kane Terry | NSW | O | 5 | 3.35 | |
| 33 | James Kilpatrick | NSW | O | 7 | 3.32 | |
| 34 | Doug Baker | NSW | O | 6 | 3.25 | |
| 35 | Mark Young | NSW | O | 7 | 3.11 | |
| 36 | Lindsay Pryke | VIC | O | 8 | 3.11 | |
| 37 | Michelle Carmody | NSW | W | 7 | 3.01 | |
| 38 | Peter Balzan | VIC | O | 5 | 2.88 | |
| 39 | Gary Hanson | VIC | M | 6 | 2.75 | |
| 40 | Paul Davidson | VIC | O | 5 | 2.72 | |
| 41 | Michael Garrick | NSW | O | 4 | 2.18 | |
| 42 | Paul Hardiman | ACT | O | 5 | 2.16 | |
| 43 | Warren Forbes | NSW | O | 4 | 2.09 | |
| 44 | Matt Jorgensen | NSW | O | 5 | 2.05 | |
| 47 | Cameron Starr | NSW | O | 4 | 1.85 | |
| 46 | Andrew Death | NSW | O | 3 | 1.75 | |
| 47 | David Ayton | VIC | O | 3 | 1.75 | |
| 58 | Connor Barratt | NSW | FTC | 3 | 1.68 | |
| 49 | Leah Keel | NSW | W | 4 | 1.58 | |
| 50 | Phillip Hamilton | NSW | O | 4 | 1.34 | |
| 51 | Shane Hahesy | NSW | O | 2 | 1.18 | |
| 52 | Mitchell Basham | NSW | FTC | 3 | 1.11 | |
| * 53 | Dane Pryce | NSW | O | 2 | 1.08 | |
| 54 | Tim Olsen | ACT | O | 2 | 0.99 | |
| 55 | Gordon Gammie | NSW | O | 2 | 0.79 | |
| * 56 | Cedric Lopez | NSW | FTC | 1 | 0.46 | |
| 57 | Rod Pickering | NSW | O | | 0 | |
| 58 | Andrew Moloney | ACT | O | | 0 | |
| * 59 | Greg Rigby | NSW | O | | -0.1 | |
| | * Indicates late penalty applied | | | | | |
| | | | | | | |
| Place | Pro Angler 17t Teandem | | | | | |
| 1 | Darryl Head . . . Kobin Rasker | NSW | 17T | 8 | 4.33 | |
| 2 | Cullen DiMattina. . Francis DiMattina | NSW | 17T | 7 | 3.73 | |
| 3 | Mick Coggins. . . Jason Lambert | NSW | 17T | 5 | 2.01 | |